Help Rushere with prayers, donations and expertise
You can make a difference to the work at Rushere Community Hospital!
Watch this video about the hospital. Dr Bonitta talks about some of our current challenges, and will take you for a tour of the hospital.
Be informed
Sign up for our newsletter, and you will receive news about Rushere Hospital from time to time.
Prayer
Join with us in praying for Rushere.
Give to the work at Rushere
Rushere Hospital has grown from one building, and only a handful of patients and staff to a complex of many buildings, over 52 members of staff and hundreds of patients.
This growth has been possible through the generosity of Rushere's supporters. Join with them in by donating to Rushere.

Visit us at Rushere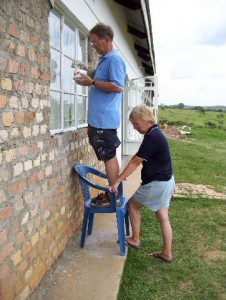 Come to Rushere for a relaxing holiday, or maybe consider coming to Rushere to share your time, experience and skills?
We have benefited much in the past by visitors that have:
Trained staff in using IT
Painted tables for the Guest House
Painted the Guest House
Lectured staff in surgical procedures
Taken videos and photographs
Worked voluntarily as a doctor
Find out more about how you can contribute by visiting Rushere.
It doesn't have to be all work and no play – most people have combined their visit to Rushere with a trip to other parts of Uganda. They have used the Guest House as their base, and visited Lake Mburo National Park and have gone further afield to destinations like Queen Elizabeth National Park.