Healthcare services at Rushere
Meduical staff at Rushere HospitalRushere Community Hospital provides a wide range of health services from its base in the town of Rushere, and from 12 government health units within the area.

Medical facilities and services
Malaria
This is a particular problem in the rainy season. Sometimes there are as many as 50 children undergoing treatment.
HIV/AIDS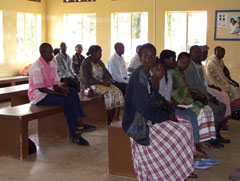 Rushere's Antiretroviral (ART) Clinic provides counselling, testing and anti-retroviral drugs. Modern laboratory equipment has been installed and the clinic can handle diagnostic procedures for HIV/AIDS.
Maternity Care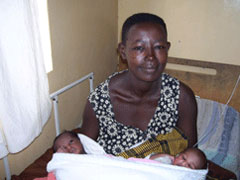 Maternity provides the following services:
• Antenatal care
• Family planning
• Immunisations
• Prevention of Mother to Child Transmission of HIV (PMTCT)
• Deliveries
• Post-abortal care
• Oral administration of niverapine tablets for mothers with HIV, and syrup for their babies
• Admissions and general nursing care for other related illnesses in pregnancy
Approximately 64 patients are seen per day:
• Antenatal care – 26
• Immunisation – 10
• Admissions (including deliveries) – 5
• Family planning – 3
• PMTCT – 20
Dental Unit
A variety of dental procedures are available, including scaling, extractions, polishing, wiring and filling.
Optician
Our centre provides eye tests, treatment and glasses.
Surgery
We have a large theatre building with two operating rooms. Unfortunately, only one room is functional – the other room currently lacks an operating table.
A wide range of operations have taken place at Rushere, including:
• Caesarean sections
• Subtotal hysterectomy
• Anaetomosis of gut e.g in cases of intestinal obstruction
Support is needed for the Operating Theatre to provide the following:
• Four oxygen concentrators
• Resuscitation equipment, especially for babies
• An EMOC machine
• More operation sets e.g for caesarean, hernia and hysterectomy
• Theatre lamps
• Additional training in surgical skills and procedures, including prostatectomy, vaginal hysterectomy, nepthrectomy, total hysterectomy and cosmetic procedures eg. Cleft repairs and escharectomy
Can you help with any of these needs?

Non-medical facilities
These include:
Guest House
Provides accommodation for up to 22 guests and conference facilities. Find out more about the Guest House.
Multi-purpose Hall/Chapel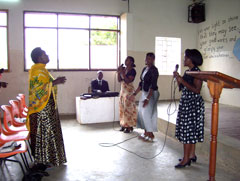 This provides a home for the Daily Morning Services, and is available for all sorts of functions.